How to determine your ring size
There are two simple ways to know your ring size. Our ring size are based on diameter, please note that some rings are adjustable.
Method A: How to Measure with an existing ring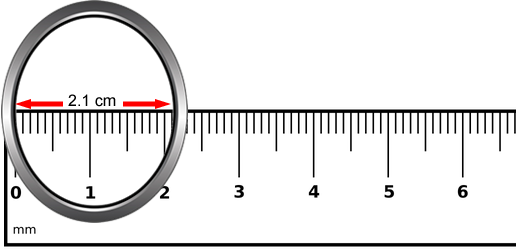 Step 1: Take a ring that fits your finger well, use a ruler to measure the inside of the diameter or the ring.
Step 2: Count the measurements in CM and you will know your ring size by diameter.
Method B: Measure Your finger with a string/ paper
We recommend using string as it is more accurate.
Step 1: Take a piece of thin string/ strip of paper, ruler or measuring tape.
Step 2: Wrap the intended finger with a piece of string of paper.
Step 3: Use a pen to mark where the string and paper meets around your finger
Step 4: Straighten out the string/paper and measure it against the ruler.
The length of
5cm is equivalent to 1.6cm
5.5cm is equivalent to 1.7cm
6cm is equivalent to 1.8cm
Please take note that some of our rings are adjustable, so you don't have worry about size :)